Reading Time:
3
minutes
HPI Rally car is among radio-controlled vehicle brands specializing in racing, HPI Racing played a pivotal role in advancing the RC rally segment thanks to a series of capable scale models. By introducing a more durable four-wheel drive rally chassis alongside high-detail bodies, HPI propelled RC rally from a niche hobby to a full-fledged racing pursuit from the 1990s onward.
Let's explore some of HPI's milestone RC rally releases that helped generate greater interest in recreating the thrills of 1:1 rally racing on smaller scales. The realism and performance of models like the RS4 Sport 3 enabled RC rally to take off as a hobby and competitive RC format.
The 4WD Rally-Specific RS4 Platform
One of HPI's first dedicated rally RC efforts arrived in 1999 with the RS4 Sport 3. While past HPI models like the Pro 4 borrowed from touring car designs, the RS4 introduced a purpose-built chassis and suspension optimized for loose, slippery rally conditions.
The tube frame four-wheel drive design handled far better on dirt and gravel than the 2WD stadium trucks popular then. A proper three-gear transmission, locked diffs, and Rally Block rubber rally tires offered far more realism than vintage RC rally attempts. Combined with a highly detailed Subaru Impreza WRC body, the RS4 Sport 3 provided a turnkey introduction to hobby-grade RC rallying.
Bringing Rally to Ready-to-Run
While the RS4 Sport 3 kit required final assembly, HPI followed up in 2008 with the groundbreaking Rally 4WD RTR. This brought hobby-grade rally capabilities to a fully pre-built ready-to-run model accessible to any RC enthusiast without build experience.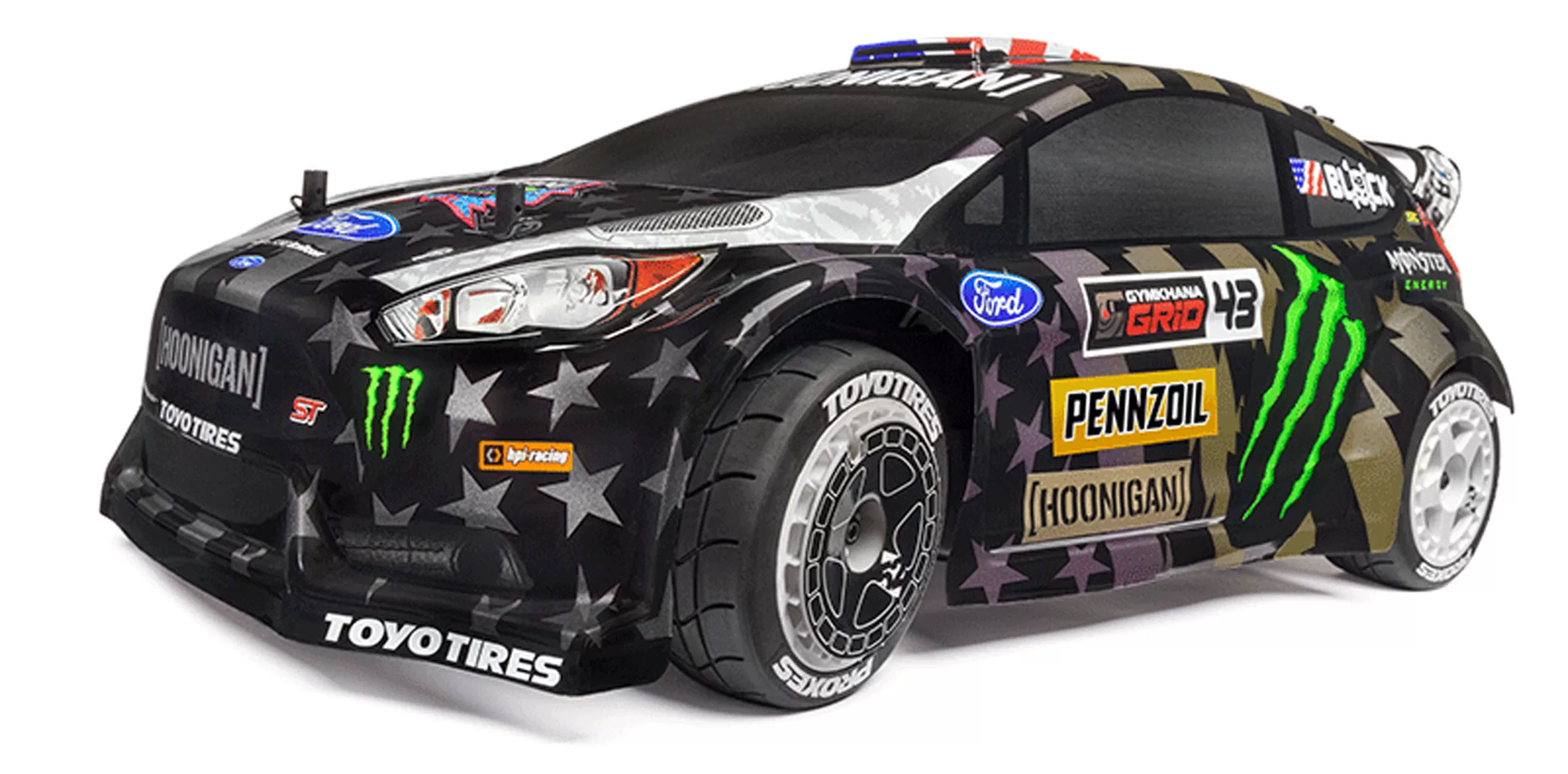 The proven RS4 rally chassis came pre-assembled with 2.4GHz radio gear, waterproof electronics, and a 7.2v battery/charger – just add batteries and go. Crisply molded bodyshells resembled Colin McRae's Subaru Impreza or Citroen Xsara WRC cars for authentic looks. HPI's RTR rally car finally delivered serious RC rallying with minimal hassle required.
Introducing Off-Road Rally Crossover
Seeking to expand RC rally's appeal, HPI ventured into crossover territory in 2013 with their unique Baja 5B model. This ambitious release married a dedicated rally car chassis and bodyshell to high-performance off-road buggy hardware underneath.
The idea of a "Baja Rally" car resonated by combining the rally's style and handling focus with rugged off-road durability and jumps. Signature BFGoodrich tires, realistic two-speed transmission, and sophisticated tube frame suspension translated to performance never before seen in a crossover RC model. The Baja 5B's unique fusion brought new driving experiences to both rally and off-road RC crowds.
HPI Rally Car Pushing RC Rally Forward
Each of HPI's rally releases enriched the nascent hobby by bringing innovations not seen in earlier low-performance rally models. 4WD systems, multi-speed transmissions, tunable suspension, high torque motors, and precision rally tires showed RC rally could offer experiences close to the full-size real deal.
Rally-optimized platforms like the versatile RS4 demonstrated the handling benefits possible with dedicated tube frame chassis and rally components well-suited for loose surface driving. HPI's push demonstrated the potential for RC cars to replicate the rally's challenges.
HPI Rally Car Lasting Hobby Impact
While HPI Racing changed hands in 2016 after 25 years, the brand's contributions to propelling RC rallying forward can't be understated. For hobbyists, HPI's rally models opened their eyes to how rewarding and realistic RC rallies could become with thoughtful designs.
The ready-to-run Rally 4WD in particular removed barriers to entry so anyone could experience the RC rally's unique thrills. By investing in specialized rally platforms rather than one-size-fits-all designs, HPI helped put RC rally racing on the map for good.